We have all seen it, and experienced it in one way or another.

Over-compensating.

It may have been frantically fighting a steering wheel as we start to lose traction when trying to turn. Or it might be trying to keep our balance on an unstable surface, starting with small body shifts one way then the other, soon growing more pronounced until we lose control and fall over.
And it happens in business all the time too. If you aren't aware of it, and it exists in your business, then you may be in trouble. In this post you will learn what the Pendulum Effect is, where the real dangers lie, and how to avoid this effect in your business.
In business it usually happens in terms of growth~cost-cutting cycles. Although there have been examples of innovation~safety cycles, sales~service cycles and no doubt many others as well.
I call this the pendulum effect.
The reason I use this term is that you cannot put significant effort into one side of these cycles without having an impact on the other side. The more out of balance it becomes, the more 'natural laws' will move to right the balance.
What usually happens is that organisations over-compensate. They finally recognise and feel the pain of their actions and reverse direction… but they again take it too far, swinging the balance to the opposite end of the range. This cycle continues as the organisation swings from side to side.
I spent the last decade in a corporation where I noticed two distinct examples of the pendulum effect. One was in the call centre where the swing was Customer Service~Sales and the other was organisation wide in what I would call Cost-cutting~Growth.
It is my contention that these swings from one extreme to another are bad for your business, stressing the components of your business in the same way that a blustery gale will work at your roof, weaken it, and eventually tear it apart unless it is tended to.
So let's look at some of the impacts that the Pendulum Effect has on real world businesses.
The most common example of the Pendulum Effect that I see in business is in the Cost-cutting~Growth cycle, particularly of public companies and corporations. Typically a corporation goes into a phase of re-invention, they want to become more relevant to their customers, and be seen in a different light, or an innovation has captured the imagination of the market and the company wants to capitalise on it. Managers are told to go forth and make things happen. Purse strings are removed, or at least elasticised.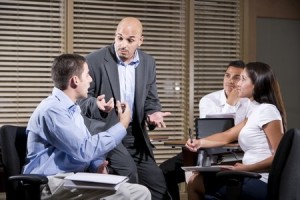 The culture of the company now has an energy and vibrancy. We are doing things! It is exciting and rewarding. Innovation is a self perpetuating phenomenon in this environment. People are excited and passionate, they have the freedom to try things and perhaps even to fail (depending on the company management/leadership). This environment attracts creative, intelligent staff who want to make an impact and do something they feel has meaning.
Of course the marketplace is fluid, and no company is unaffected by the forces that shape consumer demand and interest.
So one day the dream run starts to dry up. An inexperienced management team, particularly if it is made up of people who have only experienced the good times, will often fail to see this change in trend and will continue to chase that culture of open opportunities and innovation, and may try to spend their way to a better position. And eventually the board steps in to address meagre profits or a growing deficit, and because they realise the pendulum has swung too far.
And they send in the hatchet-man. The cost-cutter.
Budgets are tightened and the first round of redundancies begin. The culture of the company stumbles. Most of the staff are still very much invested in their projects and company that has been a focal point of their life. They see the rationale of financial control, they realise it is necessary for survival of the company, and they are sure that they can hang on until things go back the way they were.
But the cuts continue. Another round of redundancies. Projects are cut. -Often because there is no obvious or immediate cash benefit from the project. Morale slides and the culture is brought to it's knees.
The most obvious indicator that you have reached this point is that the best people are leaving.
Those who are the most valuable, the most creative and sought after, have been approached time and again by competitors and other corporations, but they stayed because of the impact they could have. Now they are realising that they will be struggling, fighting bureaucracy in order to finish their projects. The innovation cycle has withered with the culture. When the next offer comes in they take it.
But not everyone jumps ship.
There are two types that remain. Those that are not fully engaged, whose focus is outside of work, and they are simply there for the pay check. They do good work, have experience, but lack the passion that drives things forward. They can probably get a role elsewhere but just can't be bothered unless things get too bad.
Which captain would you prefer to board a ship with: The one who has mastered evacuating the ship effectively if they hit an iceberg? Or the one who has mastered navigation of his ship to avoid hitting icebergs?
The other group that remain are those who have questionable skills, they are afraid that they may not get a role anywhere else so they hang on to their current role for grim death. Ironically these are the people that probably should go early in the redundancies. These people who grimly hold on to their jobs are usually adept at politics, the main reason they are still there. And they wield their political abilities like a weapon which further damages the culture for the creative types, who are often idealistic, and sometimes politically naive.
And so the pendulum has swung to the other extreme. The accountants and cost controllers hold sway. They are effective in their area of expertise, but they do not understand what it takes to grow a business, to capture the imagination and hearts of the market or the employees. Often they are used as a blunt instrument by the board or executive suite: "Get the costs down to this level". Regardless of how that affects the rest of the business.
Does this sound familiar?
After more than a decade in the corporate world, it is a situation I see repeated by companies around me more often than I care for. On both grand and small scales.
Now it is important that the costs are kept under control. But it is my contention that the role of leadership and management is not to "fix" a problem like this. Rather their role is to see it coming and avoid it. The obvious analogy is: Which captain would you prefer to board a ship with: The one who has mastered evacuating the ship effectively if they hit an iceberg? Or the one who has mastered navigation of his ship to avoid hitting icebergs?
I mentioned the call centre example where management shifted focus from Sales to Service (or Customer Experience) and back several times. This may have had an effect on the customer experience over that period, but that is both hard to measure and completely subjective. These cycles were quite long, and customers may not call into the centre for months or years.
The more significant impact was, again on the staff. Some staff are very sales focused, they are driven by targets and bonus or incentive payments. When things switch to a Service focus, and incentive payments are reduced or removed, many of these staff, start looking for somewhere else that they can exercise their skill set, and earn the type of bonuses that they know they are capable of.
Equally those that really care about the customer, how they feel with the products and services, and who naturally look to help by making sure they are on the right plan or program, and building deep relationships on a call, thrive in the Customer Experience environment. They feel validated and important, an asset to the company. But shift back to a sales focus and these staff feel uncomfortable. Their call times are too long with few sales to show for it. They are now in trouble with their manager, for the same thing that they were applauded for last year.
Every swing sheds some staff (usually the best ones) and disengages many. Those staff that have a middle-of-the-road attitude can adapt from one shift to the next but they feel the pressure of changed expectations, and tend to be less engaged overall.
It doesn't need to be that way.
There will be a solution. It is unlikely to be easy, but I expect it will be worth the effort. It may entail identifying those with a strong bias towards sales or service and giving them slightly different roles that fit them, tailoring the call path to ensure the organisation gets the best value out of these staff that they can.
Call Centre managers I know will be rolling their eyes at this point. -yes it is difficult. But it will add value to the organisation by more effectively utilising the resources at your disposal.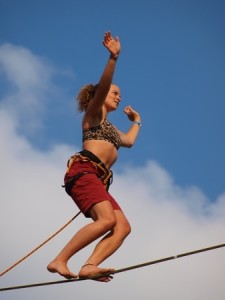 A Call Centre needs both Sales and Service. A business needs the freedom to innovate, grow and to keep control of it's expenditure.
The key is to keep the pendulum closer to the centre.
There will always be a swing, just like the tightrope walker whose feet are constantly wobbling from side to side. She knows the dangers of over-compensating. Any violent reaction will lead to another and another until all balance is lost and she falls. Therefore her shoulders and hips are trained to stay stable, and as stationary as possible, and the swings are contained, and managed in her legs. It is a lesson for us all.
How might this work in practice?
It isn't rocket science. As a leader, once you are aware of the Pendulum Effect, you simply set the boundaries. You decide on the metrics that need to be monitored, and you make sure that they are clear and are maintained. Of course these metrics need to be reviewed every couple of years to ensure relevance, to take account of changes in the marketplace, the industry and the size of your business.
The metrics will likely be along the lines of keeping costs in different areas to a percentage of revenue. Innovation will be kept at that percentage (which will be different from industry to industry), through good times and bad, which should mitigate the effects of the market on your company.
But this post is not about how to mitigate the effects of a recession in your business (I wrote a book on that <-shameless plug!), this post is on how to mitigate the damage to your business of upper level decision making.
And if you are not a leader? If you are not in the position that makes these sorts of decisions?
Then I suggest you make hay while the sun shines, but be prepared to bug out early when it starts to turn.
-Or forward this post to someone who is in a position to make decisions… you never know.
As always, I am keen to hear your thoughts. I am close or wide of the mark? Do your experiences support or contradict the Pendulum effect? Please leave a comment below, I would love to hear what you think.
Image Credits: