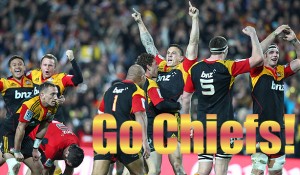 Nobody really expected the Chiefs to make the Super 14 final. Let alone be 2012 Champions…
Why? Because they have not performed at that level in the past. Other than their passionate fans, they were an underdog or an after thought to the rest of the competition.
But it was that unexpected result which really made this a great event, particularly for those passionate fans. The players were pumped up, they were in fantastic form and they came out to prove a point and put on an entertaining display.
I loved every minute of it.
And I am  looking forward to the TEDx Auckland for the same reason…
I have to admit I am already a pasionate fan. I have enjoyed the TED videos for several years (almost seems like forever), and I have attended both of the previous TEDx Auckland events. I enjoyed them immensely.
However, TEDx Auckland is still the underdog. It didn't happen in 2011, and is now under new management. And there will be the inevitable comparison with the TEDx Sydney event, because it is close to us geographically but which has also been judged to be the best TEDx event in the world.
So the question of the new management is: "Can they pull it off?"
As a passionate fan of the TED and TEDx events I certainly hope that they can, and I will do anything I can to help them. I know the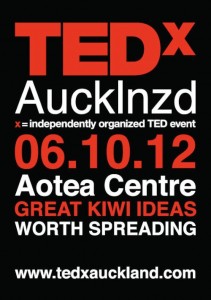 people putting it together and I know the quality of speakers they are getting and the quality of the people running the event. i am certain I will enjoy the event myself, be stimulated, and meet some more great people.
But if you are not a fan, why should you care?
Well let's go back to the Chiefs for a moment. It hasn't been obvious in the past few days, but I guess there are people in the Waikato that are not really Chiefs fans. But if they own a business, they are reaping the benefit of an influx of visitors, increased celebrations and arguably an increased confidence and willingness to spend.
If they don't own a business you can't help noticing the uplift in spirits within Hamilton city as strangers talk about 'their team' in the lift or when waiting in line.
I would argue that the TEDx Auckland event will do the same for Auckland. The result of having a number of the smartest most inspirational experts on the planet in their respective fields, 'infect' people in Auckland (and across New Zealand) with their ideas, their enthusiasm and their insights will be huge.
At the end of the day life is about emotion. We didn't get excited by a bunch of men running around on the field, (welll actually I know a few girls who were excited about that…), we got excited by the emotion of the event of achieving something that was not previously though possible. With TEDx Auckland I will be walking away full of ideas and enthusiasm, with that elated feeling that I can go out and do things that I didn't previously think I could do.
-Ultimately I think that feeling; that of new possibility, is why both of these events are the same for me.
I look forward to seeing you at TEDx Auckland 2012