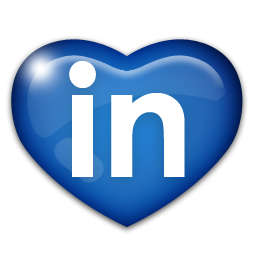 In this Tactical Tips post you will find detailed instructions on how to quickly set up an effective LinkedIn profile, and network that can help you get a permanent role or project/contract work.
The video above has give you the overview, and the detailed how-to information is below.
1. Sign up to LinkedIn
I am not going to spend anytime telling you how to set this up as it is quite simple. But I will make one point. Be sure to use your name as you normally do. You will find me searching for Chris Hanlon, because that is what most people know me as.
It would not be a good idea for me to put Christopher Hanlon, or Chris G Hanlon, or my full name, as nobody will find me in a search.
2. Upload your CV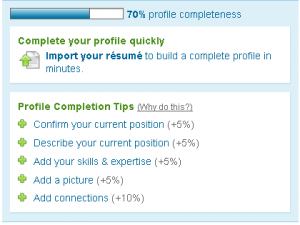 Most of us have an old CV or Resume somewhere. Dig it out and upload it, the auto-population works very well and you get a great feeling of satisfaction seeing something up there quickly.
Just click on the Import your resume link to the right of your profile page. Browse to find your resume in your computer and click upload.
When I did this (for a friend) I was pleasantly surprised at how painless and accurate it was. However I suppose it will not work well for every CV or resume out there, and I suggest that you check over what was imported carefully so you can remove any errors.
3. Write your Summary
For me this is one of the Critical elements of an effective profile. Your resume usually looks dry and boring, the summary is your opportunity to quickly and simply present what you do, both professionally and for fun, and wrap it up in your personality.
This is probably the hardest thing to do effectively.
This is an example I wrote quickly for a friend:

I don't really understand her field of expertise so I  haven't fleshed out her work aspect. But this illustrates a structure that works effectively.
An initial sentence that sums up or gives a taste of who the person is. -In this case Nicola is English and a real outdoors person so her choice to live in NZ is a defining aspect of who she is.
A simple overview of the work you like to do, and a subjective qualifier of your expertise or approach to your work. -I made this up for Nicola based on what I know of her, but I wouldn't be surprised if she changes this. The point is to use the structure to fit your specific needs.
Finally round out the summary with a bit about your "out-of-office" activities. Since I know Nicola out of the office this was a lot easier for me to write, and I also wrote more about that than I wrote about her role. -Ideally your role will be more than your out of office activites (about twice as much).
4. Make Connections
Now you have a decent profile it is important that you get connections. If people look at

hiring you for a permanent role or project and you have very few connections, it raises a red flag. -Are you difficult to get on with? Do people not like you or trust you? Even if they are not thinking this consciously chances are it will be impacting them subconsciously.
Fortunately LinkedIn makes it really easy to connect.
To start with you want to hover over contacts then click on Add Connections. This will allow you to link your mailbox to search LinkedIn. Or if you are not comfortable with that, from there you can click on the People You May Know tab, which I find most useful.
If you do already have contacts, visit one of their profiles and look at their contacts. Often you will find people you both worked with in their contacts and you can invite them to connect with you from there.
5. Get Recommendations
As soon as you get a decent number of connections you will need to get some recommendations. As a starting point I would aim to get 50 connections and no less than 5 recommendations. Do whatever you have to do to get these recommendations, Beg, Bribe or Blackmail. -Just joking!
One word of caution, if you have 10 connections and 10 recommendations it looks a bit phoney. That is why I suggest aiming for 10-15% recommendations when you are starting out. If you get more recommendations than you expected, then just get more connections to dilute the concentration a bit.
LinkedIn makes it very simple to ask for recommendations. It seems like there is a link to do this on virtually every page!
Probably the most effective way to get recommendations is to find connections that you know well who are active on LinkedIn and do a recommendation for them. Do this before you approach or ask them for a recommendation. They will be far more likely to recommend you in return, when you do ask.
But this really only works if they are active in LinkedIn. Many people have a profile that is only partially completed. doing a recommendation for them is often a waste of time as they don't realise what you have done, and they don't realise they need to 'publish' the recommendation before anyone can see it.
Be aware too that the recommendations you give are also shown on your profile, and say a lot about you. So take the time to write a really good recommendation. It should be honest, and focus on the things the person did well. If you can't think of anything good for a person you shouldn't do a recommendation at all!
Check out some of the recommendations I have written, on my profile, as an example.
A good point to remember: When someone does recommend you, make sure that you click the Accept  button on the LinkedIn message, or that recommendation will not be visible.
6. Get involved in Groups
Groups are really at the heart of LinkedIn.
You want to join groups relevant to your industry, or your prospect's industry, that interest you. you want to leave thoughtful intelligent comments that add value to discussions that are going on in the groups. By doing this you will find that others in the industry will want to connect with you on LinkedIn.
Also by searching these groups in your area you may find people that you have worked with in the past, who you can send a invitation to connect.
The first place to look for groups will be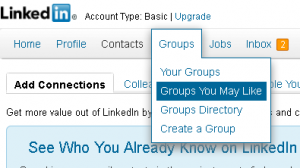 on the profile pages of your connections. People in your industry who are active in LinkedIn will probably have groups displayed at the bottom of their profile page. These are displayed by default, and I recommend you have them display on your profile when you join them as it shows you are active in LinkedIn and serious about your industry.
The other easy way to find groups  is to hover over groups and click on Groups You May Like (as shown in the image)
When you join a group there will be a link that allows you to change your settings (shown below).  I like to go in there immediately after I join a group and change the email settings to a weekly digest. This makes things a little more manageable. Of course if you are out of work, you may want to keep the frequency of emails high and be far more active in discussions to get maximum exposure.

7. Add apps
This is an optional step and really depends on the individual, your industry and your goals. The reason I like apps is that it makes your profile a little different from everyone elses.
If you have a blog include the blog feed app on your profile. I read a lot of business books and so I have the Amazon app on my profile. -Plus it allows me to highlight the fact that I have a couple of books available on Amazon.

So there it is seven simple steps.
Don't be tempted to put it off until later. Speed is key. Devoting 1-2 hours in on this each day or evening should see you with an enviable LinkedIn profile in just 1-2 weeks.
Let me know how this has helped you in the comments below. And if you have anymore tips that you think will help others, feel free to pop them in the comments as well.
And please send me an invite to connect with you on LinkedIn