Alright this is a little different for The Profit Wizard blog as I don't really do reviews on this site, but for book this I will make an exception. -Hey rules are meant to be broken! It keeps life interesting.
I first met Martin Howey in Chicago, in 2006 I think. He was introduced to me by Joel Bauer, who said that if I was thinking of doing any consulting, Martin was the guy to talk to. Joel was right, Martin gave me some great insights right there and then. What impressed me was that Martin took the time to teach me some stuff without getting 'salesy' or pushy.
Then after I returned home to New Zealand, I soon got a package containing two of Martin's books, both signed with a personal message to me. -I was blown away! Needless to say I continued to follow Martin online and take note of the tremendous advice he offers.
I had decided that I would enlist Martin as a mentor and invest in his Topline Business Solutions training… But it was one of those things that I never really got around to. A friend and I looked at setting up a consulting business together at one point, but (Fortunately) we didn't go ahead with it at the time.
Then about a year ago I got word that Martin had been diagnosed with type IV cancer, and it didn't look good. I sent him my wishes for his speedy recovery and I made a decision in my own mind that if the opportunity presented itself I would finally do whatever it takes to get that training from Martin.
Well Martin defied the odds (he's just that sort of guy!), and I took the opportunity to travel to Phoenix in October 2011 to attend a multi-day training event with a select group of very high calibre people. -I was almost intimidated by how impressive this group actually was, and was relieved to find I could hold my own with them.
Now I mention all of that because in the second chapter of his new book, interviewing Adam Urbanski, I have underlined where Adam talks about ensuring that you take action, prepare for the worst, and don't just put things off indefinitely (or inulge in denial).
If I had put off taking that trip to Phoenix it may never have happened. -I would not have met Martin, (who I would now consider a valued friend). I would never have the opportunity to contribute to two other books that he has in the pipeline, and I would not have met some of the great people that Martin has already introduced me to.
My question to you is: What have you been putting off? What do you think "oh yeah I will get around to that"?
Think about your answer. And think about what if the opportunity is no longer available? -If that wouldn't worry you then you have my permission to continue procrastinating, because it probably isn't that important. But if the loss of that opportunity would upset or devestate you, then I urge you to take action.
That is just one small, but important thing that I have gotten from this book.
But there is so much more.
Now if I am honest, I have to admit I was dubious about this book initially. -For two reasons:
It seemed a bit 'fluffy' to me. I tend to read 'hard' strategy and tactics books.
I wasn't sure about the interview format of the book.
Both of those concerns were unfounded. In fact the variety of perspectives and the breadth of advice from the guests in this book is what makes it such an impressive resource. Both in terms of the 'soft' character stuff and discipline you need to be a successful entrepreneur, and in terms of the 'hard' tactics and strategies which you can apply to your business to make it stronger and more profitable.
Bottomline I urge you to get a copy of this book.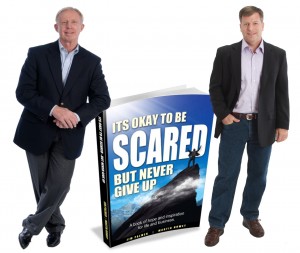 I am not getting an affiliate commission by recommending this book, I am simply recommending it because it is a good book, that I am sure will have something in it that will help you.
And of course because Martin is a friend of mine.