Okay this is something different…
The rule is that you stick to one topic on your blog. -But rules are made to be broken, and what the hell, it is my blog after all!
So with that said I want to write a few words about my visit to Auckland's inaugural TEDx yesterday. If you haven't heard of TED yet I highly recommend that you check out some of the videos on the site: www.ted.com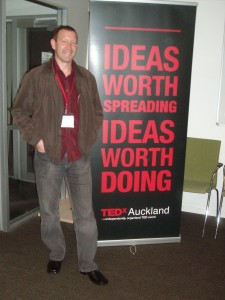 To say that I was impressed by TEDx Auckland would be a wild understatement! -World class speakers and performers. Thought provoking topics. Surprises. Fantastic venue and professional looking set. Amazing people in the audience…
It just doesn't get any better than this!
My experience started with a motorcycle ride up from Hamilton. The weather was a little gusty which made for interesting times, but I arrived in Auckland exhilarated and in one piece. I had a reservation at The Langham (an upscale hotel), and there was a little consternation when I asked to have my Kawasaki Ninja 600 ZZR valet parked. -I loved it! But the folks at The Langham always look after me, and this was no exception.
After checking into the room and getting ready I took a cab out to Westlake Boys High school. I have to say that my expectations were not too high. I mean, c'mon, a school hall… -Whoah! was I in for a surprise.
The Westlake 'hall' is fantastic! I have performed in university theatres that have not been this well set up in terms of lighting and multimedia backdrops.
I want to try to give you some feel for my experience but I will not be able to do any of the speakers or performers justice in a few short sentences. Fortunately these talks will eventually appear on TED as videos, and I urge you to check them out for yourself.
The first speaker was Michael Henderson a Corporate Anthropologist. I took 3 pages of notes on his presentation alone. There was a lot of relevance for me as I have witnessed a significant cultural change within Telecom over the past 2 years and Michael gave me another perspective: to look at it as an anthropologist might. One of the things Michael said that left a lasting impression as he compared culture in corporates with culture in tribes was: "You don't see tribes conducting engagement surveys. The leadership of the tribe is in communication with, engaged with the tribe all of the time, they don't need a survey".
Wendy McGuinness was the second speaker. Her think tank is focusing on a sustainable future for New Zealand. I took a lot of notes as she explored the different perspectives of hindsight; insight; and foresight as they relate to the timeline. And her explanation of how the project is working through from Possible; to Probable; to Preferred futures.
Next we had Monisha Kumar perform an Indian dance routine. Monisha has performed for Bollywood, international shows, with contemporary and classical Indian dancing.
Nigel Parker is a technologist who works for Microsoft. He challenged us to let go of our fear of failing and to embrace the failure as an inevitable part of success. He set out the current economic landscape in a way I had not thought of before.
Dr. Robin Kelly finished up the first session. Robin talked about Auricular acupuncture, using acupuncture to only the ear, and expanded this to discuss The Human Hologram. It was surprising to me to find that the military is now using this in battle field treatment of soldiers in Afghanistan to alleviate pain without the need for excessive amounts of morphine.
Chatting with Robin after the event was even more interesting as we discussed acupuncture on animals, and his friend who is an elephant acupuncturist (which is not as limiting a career choice as I had imagined).
With the first session over I got chatting to some of the other attendees. In particular I enjoyed chatting to Eva who moved to New Zealand from Russia 10 years ago and is currently studying business management. Eva was great to talk to after the event, (she put up with my constant babbling very well), as we maneuvered around to chat to the various speakers. Eva has a blog that is worth a look: www.realussr.com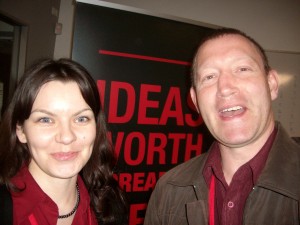 The second session started with Brenda Frisk, and it was frustrating to me that Darius hadn't made it to TEDx, as she (and all the Telecom trainers) would have enjoyed this immensely. As a Learning Technologist Brenda is taking action on the very things that I found totally frustrating when I was training new inductees to Telecom. A question that she posed regarding assessment of learners stays with me now: "Are we assessing their knowledge or are we assessing their memory?" I think any trainer or educator can relate to that.
Scott Gilmour simply blew me away with what he has done and is still doing. He took the I have a dream charity concept from the USA and launched it in Auckland with 53 children from a decile 1 school. the program helps the kids to define what they want, and gives them the path and resources to make that dream a reality. This isn't a small commitment either. Scott has been working with these kids for 7 years and is almost half way through his 15 year commitment to them. This is not only a huge impact for those lucky children but the impact to society, and the flow on effect in the more distant future is staggering. To find out more check out the I have a dream website.
Chatting to Scott afterwards was humbling. There is another I have a dream program due to be launched in Hamilton, and I am keen to do some volunteering… anyone want to join me? (mentoring & tutoring)
Following Scott was a very fitting Glenn Compain, a uniformed policeman who has a passion for engaging and empowering youth. Glenn was flanked by two young guys who had turned their life around. I didn't know what to expect but was as surprised as a stunned mullet to see this Hip Hop Cop in action. -Something that has to be experienced yourself to be understood…
Billy Gammon rounded off the second session talking about his monumental achievement with three others in rowing across the Indian ocean from Australia to Mauritius. Of course I had been aware of this through the constant internal Telecom coverage of the event, but Billy's humour and obvious passion for the cause of prostate cancer was inspiring. I was also very impressed with how much credit he placed in the supporters that made the whole thing happen.
Chatting to Billy afterwards was great too, and there are quite a few more stories about his adventure that didn't have time to fit into the presentation. Most importantly I promised that I would get a prostate check done…
Andy Blood was next. I was looking forward to this as Andy is an advertising man and was talking about Social Media. I have to say this was the only hiccup I could spot in the whole event, and to be honest it wasn't the fault of the TED crew, if Andy had used a PC at home instead of a Mac, I am sure his 'powerpoint' would have worked ;o)
-But I had to feel for him, I have spoken to audiences around the same size, but never to such a discerning group of people. Talk about pressure to perform!
Andy did very well and this was another talk that I took a lot of notes on. Andy showed with numbers and a real example how to link Facebook; Twitter; and a blog to drive significant interest and traffic to a site. -All for free!
I have to say I am now a Ray Avery fan. Ray was the last speaker of the day, and spoke of innovation, -a topic that I love. Not only is Ray a great inventor but his talent for creating a solution to a third world problem, and at the same time creating a first world product to help support the manufacturing and distribution to the third world is nothing short of genius! I was greatly impressed by the work done by Fred Hollows, but I didn't realise that Ray was so involved in all of that work. However I have the feeling that Ray is going to be a household name in a few short years, and he will join the ranks of legendary kiwis.
I tried to tell Ray how impressed I was with his commercial/social model, when we were chatting afterward. But I couldn't really find the words, and I still can't. Genius just sums it up.
The final piece for the event before we retired to the hospitality area, was another surprise, and a unique experience. Throughout the audience there were vacant seats that were left vacant for a purpose. We first found out what that purpose was when a legion of students and their instruments walked in and took their place throughout the audience. They then played a composition by Wagner. I had an Oboe directly in front of me and a brass section behind to my left. It was like being in the symphony orchestra while they played… I caught the first minute on my little camera, which doesn't even begin to do it justice, as I sat there dumbfounded with a grin splitting my face…
In closing I would just like to say that I hope to see you at the next TEDx Auckland. Don't just wait until next year, start watching some of the TED videos, link to TEDx Auckland's Facebook page, and if possible register early for next year's event… You won't be sorry!!